The price of higher education looks much different than it did 20 years ago when NEST 529 launched in Nebraska. Rising tuition charges make up a fraction of an individual's total college bill. Scholarships and grants may help cover books and institution fees, but many fail to cover living expenses. College tuition and costs continue to increase at, and above, the rate of inflation. The staggering rate at which college fees are mounting isn't stopping anytime soon. What does it mean for your future graduate? Continuing to contribute to your beneficiary's 529 plan will help set them up for their future.
College Board is a national not-for-profit dedicated to helping future students prepare to attend college. Its annual report, "Trends in Higher Education Series: Trends in College Pricing and Student Aid 2020," states undergraduate and graduate students in 2019 and 2020 received $242 billion in student aid (federal loans, tax credits, grants). Additionally, in 2020–2021, the average published tuition and fees for full-time undergraduate students were:
Public two-year college: $3,770, $70 higher than 2019-20
Public four-year in-state college: $10,560, $120 higher than 2019-20
Public four-year out-of-state college: $27,020, $250 higher than 2019-20 1
Increasing the amount of money to your child's NEST 529 account by $50 a month can have potential gains; not only is it a tax benefit, but there is potential to earn compound interest. Here's an example of how much you can potentially accumulate with NEST based on an initial $2,500 investment and different monthly contribution amounts.
This hypothetical example illustrates the accumulation potential with a $2,500 initial investment and a monthly contribution plan at a 5% projected average annual return. The above example is based on projections and does not reflect your actual investment in the NEST Direct College Savings Plan. If fees were included, the returns would be lower. Your actual results may be more or less.
If $50 monthly feels like a lot, think of it this way—it is roughly $1.80 a day, which is less than the price of a cup of coffee every day. Consider adding in your "lunch money" too. For example, let's say you spend $15 a day for your cup of coffee and lunch.
$15 per day x 30 days = $450 per month
$450 x 12 months = $5,400 annually
NEST 529 is equipped with resources to help you determine the right annual contribution amount.
The College Savings Estimator is a step-by-step tool to help you determine approximately how much money you will need to save to pay for your child's education.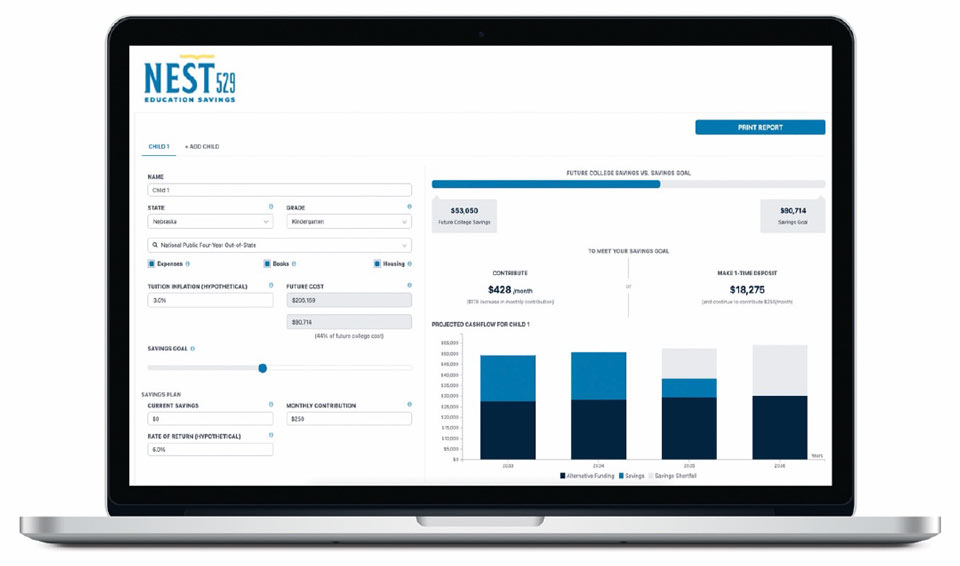 Once you determine a contribution amount, choose to set up an automatic investing plan to funnel funds to your NEST 529 account. You can select the frequency (monthly, quarterly or annually) in which the funds are deposited. The investing process allows you the peace of mind to not have to mail a check each month.
The bottom line is that there is no right answer to the question "How much should I save?" What we know—to ease the potential sticker shock that comes with college prices, you need to save. You're on the right track. Double-down and determine a comfortable monthly contribution plan so you feel confident that you're saving towards college to help your child soar to their dreams.
1College Board. Trends in Higher Education Series: Trends in College Pricing and Student Aid 2020. https://research.collegeboard.org/pdf/trends-college-pricing-student-aid-2020.pdfback